G Series
Condensing gas heater
Higher efficiency and energy savings for better comfort thanks to the automatic modulation of the flame and ventilation.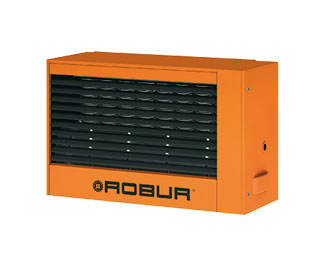 Benefits
High thermal efficiency and respect of the new norms about the heating installation system. The choice of condensation for Gas Unit Heaters allows to obtain thermal efficiencies over 105% and consequently comparable with the best condensing boilers on the market. The remarkable advantage of Gas Unit Heaters is that the water distribution is not required, presenting a better global efficiency of the system.
Perfect modulation of the heating output. The energy needed is grant by the heaters in a uniform and adequate mode for any single part of the premises. Each heater is able to give its own heating output proportioned to heating demand. In this way the modulation will support an average efficiency of functioning much more higher than the nominal value of the system and a constant ambient temperature in any functioning condition.
CO and NOx emissions practically nil. The control of the total premix combustion permits also to avoid problems on the exhaust flue system.
G series heaters listed on the Energy Technology List (ETL), Entitling buyers to claim an Enhanced Capital Allowance.
Workshops and factories.
All premises where high comfort and high efficiency are required.
Commercial buildings and show rooms.
Sports halls and fitness centres.
Heat output G30: nominal kW 29.2 - min. kW 15.6
Heat output G45: nominal kW 43.3 - min. kW 15.6
Heat output G60: nominal kW 56.2 - min. kW 20.2
Heat output G100: nominal kW 90.2 - min. kW 33.5

Efficiency G30: nominal 97.3% - min. 105.3%
Efficiency G45: nominal 96.3% - min. 104.3%
Efficiency G60: nominal 97.0% - amin. 104.6%
Efficiency G100: nominal 97.0% - min. 105.7%

Airflow rate(1) G30: max. 2,700 m3/h - min. 2,300 m3/h
Airflow rate(1) G45: max. 4,000 m3/h - min. 2,340 m3/h
Airflow rate(1) G60: max. 5,350 m3/h - min. 3,310 m3/h
Airflow rate(1) G100: max. 8,250 m3/h - min. 5,200 m3/h

Installed wattage G30: W 350
Installed wattage G45: W 450
Installed wattage G60: W 750
Installed wattage G100: W 900

Operating temperature range(2) G30 - G45 - G60 - G100: 0/35°C

(1) At 20 °C - 1013 mbar.
(2) Indoor temperature of the installation location 0 °C/35 °C; The unit's internal components have been tested from 0°C to 60°C.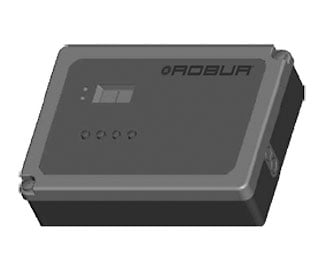 Termoregolatore per generatori - OTRG005
Professional user literature