GAHP AR
Air-to-water
Reversible Gas Fired Absorption Heat Pump

For Heating, Cooling and DHW production.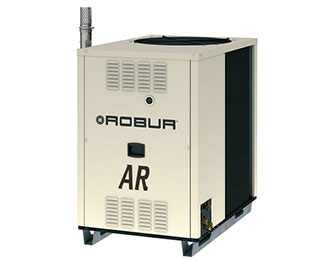 Benefits
Ultra efficient unit: heating efficiency at rated conditions 126%, saving up to 40% in operational costs compared to the best condensing boilers, recovering 34% of renewable energy from the air.
With a single machine it is also possible to provide heating, cooling and supplemental Domestic Hot Water.
Stable operation down to -20°F: efficiency over 100% even at -4°F.
Complete flexibility and modularity: to increase seasonal performance factor and total heating and cooling capacity.
87% reduction in electrical power requirement (0.75 kWe for 120,400 BTU/h of heating output or 57,700 BTU/h of cooling output), compared with traditional electrical compression systems.
Single Phase Power.
For applications requiring standby power, the electric generator size and electric output will be considerably lower.
High Reliability due to few moving parts inside the unit.
Easy Maintenance, similar to gas fired boilers.
No Water Consumption. No need for cooling tower (no problems associated with legionella).
No use of Harmful Refrigerants.
Outdoor Installation.
No comfort reduction during defrosting cycles: the unit supplies about 50% of its total heating capacity.
RESIDENTIAL new and replaced hydronic heating and summer air conditioning cooling systems:
fan coil and air handlers;
radiant floor or ceiling;
DHW production.
COMMERCIAL and LIGHT COMMERCIAL new and replaced hydronic heating and cooling systems:
fan coil and air handlers;
radiant floor or ceiling.
INDUSTRIAL applications with high year-round heating and cooling demand.
Nominal heating output
120,400 BTU/h
Nominal cooling output
57,700 BTU/h
Outlet water temperature
maximum in heating mode
140°F
minimum in cooling mode
37.4°F
External air temperature
maximum in cooling mode
120°F
minimum in heating mode
-20°F
Voltage
230 V - 60 Hz

Due to continuous product innovation and development, Robur reserves the right to change product specifications without prior notice.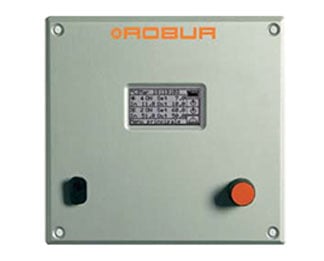 Direct Digital Control (DDC)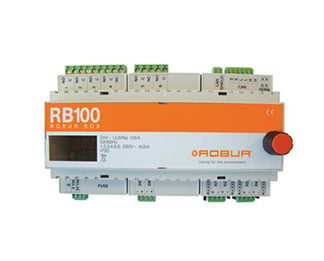 Robur Box 100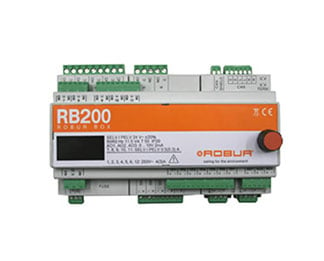 Robur Box 200