Gas cooling on the island of Martha's Vineyard
Chappaquiddick Bay
Product Range
Chiller
Pre-assembled groups (Link)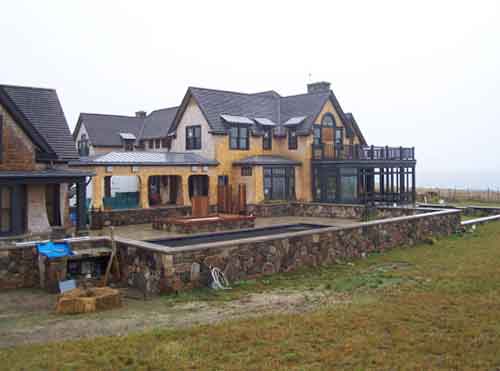 This beautiful contemporary summer home overlooks Chappaquiddick: it will keep you entertained during any rainy season that the island of Martha's Vineyard may experience.
The home's lower level includes a full game room, complete with its own Photo Dark Room and Bowling Alley with built in scoreboard.

Exceptional surroundings require exceptional cooling equipment to maintain comfort inside and harmony outside. Robur's modular Chiller-Link was the ideal choice to satisfy the designer and homeowner.

The new Gas Absorption Cooling System by Robur makes it possible to provide chilled water enabling ease in design for today's modern residences with many amenities.

The Robur Chiller installed outside produces chilled water for cooling the interior spaces. Small insulated water lines are piped to strategically located air handlers inside the residence avoiding the need for large cumbersome duct runs. The best solution to maintain comfort, aesthetics and the architectural integrity of the home's interior.

The Robur RTCF180 Chiller-Link unit was selected to provide chilled water to the 12 zoned air handlers located throughout the home's expansive 15,000 square foot space. Each zone is controlled by its own thermostat to allow the chilled water to air condition that area of the home to the occupants' personal preference.
In the winter time these same zones are supplied with hot water from a boiler located in an equipment room in the lower level. The 15-ton Robur Chiller-Link system is located 200+ feet from the house allowing the exterior quality and appearance of the home to be the focal point of this property. Underground pipes from the Robur system were run to the house providing the necessary chilled water for the air handlers. Numerous electric AC units scattered around the exterior of the house were not an option at this residence.

A Robur direct digital control (DDC) was installed ensuring optimal performance of the Robur cooling system while providing:
Automatic staging of the modular Chillers to match the indoor cooling load.
Equalize run times of the Chiller modules for longer life.
LCD readout display of the system's operating parameters.
Logging and displaying fault code history.