Robur with you. Qualified assistance, everywhere.
The customer is value. The importance of customer satisfaction.

Understanding the needs and empathizing with customers is fundamental to establishing a profitable relationship of trust that allows us to best meet their needs.
Their satisfaction is our mission. The "Robur with you" team is always ready to help, accompanying transparently throughout the life of Robur solutions and guaranteeing the highest quality of services offered. Without worries.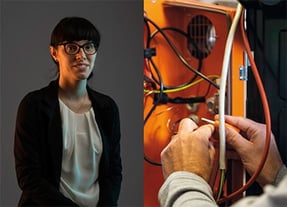 Maintenance accompanied by high level training.
We have always invested in personnel, facilities and services to implement the best technical training for our partners. We do this with a qualified team of experts, with experience in the pre and aftersales phases, whose task is to train and inform in order to respond more effectively and quickly to the requests of customers and professionals.
We create training courses with high technical content, which accompany the evolution of our products. An exhaustive and versatile package of contents, complete with courses that can be taken either at our premises or at the customer's, directly on the installations or in e-learning mode (webinars and remote learning). An offer capable of training partners that are professionally skilled, partners you can count on.
Robur's authorised Service Centers.
In the event of critical situations, rapid diagnosis and quick problem solving, you can count on a widespread network of authorized Technical Assistance Centers (TAC).
Robur Service Centers are selected for their availability, professionalism, technical and organizational competence. Robur Service will propose you the most effective maintenance plan according to the type of installation and units used and to your needs.
Knowledge is power. And it improves operation performance.
Getting the best results is a goal that starts before you buy. That's why our services begin before the sale, thanks to Robur's presales support service. Correct aftersales maintenance optimizes performance, keeps your investment intact over time and preserves the installed units in perfect efficiency. Complete guidance and support throughout the life of the products, to give partners and customers the certainty of always feeling safe.
One step further. Remote monitoring and warranty extension.
The Robur Monitoring System service allows for the remote management of Robur Absorption line products from smartphones, tablets and PCs. The ideal technology to prevent malfunctions and provide maximum productivity in terms of operation and performance. What if something should happen? No worries, the dedicated warranty extension is an extra insurance on the life of our products.