New gas absorption heat pumps replaced older Servel chiller heater units
Southern Connecticut Gas Utility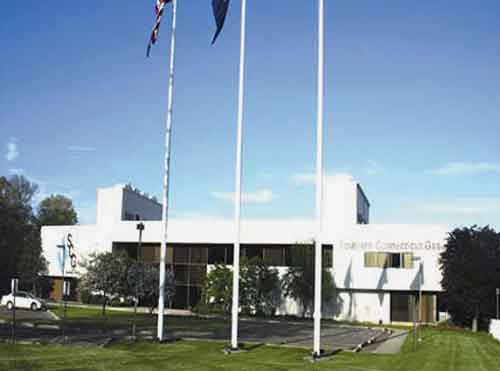 Southern Connecticut Gas installed 5 Robur Gas-Fired Reversible Heat Pumps, Model GAHP-AR, in their own facility in Orange, CT.
These 5 units are installed in two different Operation Centers. Two units serve the Meter and Transportation office area of SGC and they replaced two older Servel Chiller Heater units, model AYC48-140. The three other GAHP-AR's replaced an old engine driven 15-ton packaged gas heating and air conditioning unit.
A Robur GAHP-AR air conditioning unit reduces demand on the electric grid by over 80% when compared to a conventional electric air conditioner.
5 GAHP-AR have a demand of only 3.75 kW for a nominal 600,000 Btu/hr of heating and 25-tons of cooling.
Each of the two units that serve the Meter Office and Transportation Office areas are connected to a horizontal chilled/hot water coil installed in conjunction with two horizontal 90% efficient gas furnaces that may be used for back up heat.
They are located above the drop ceiling connected to a duct distribution system that provides comfort conditioning for the entire office environment.
The other three units are connected to an outdoor make up air/furnace with a hydronic coil. The furnace unit is then ducted into the Meter Shop Area of the Operations Center.
Building type
Commercial
Energy distribution system
Make up air/furnace
Duct system with hydronic coil
Unit number and type
5 GAHP-AR Gas Absorption Air to Water Reversible Heat Pumps
Heating capacity
602,000 Btu/hr
Cooling capacity
288,500 Btu/hr (24 ton)