Stable operation and approximately 83,000 Btu/hr heat capacity down to a -4 °F outdoor temperature
Residential home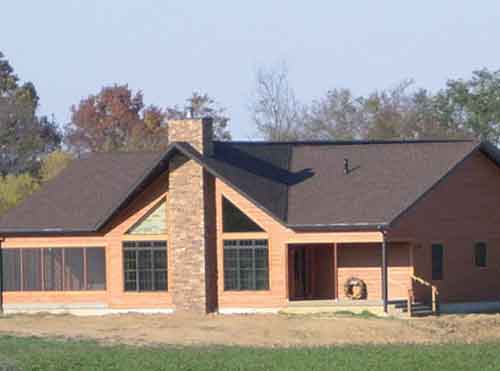 A reversible gas-fired absorption heat pump by Robur Corporation (Evansville, IN) was installed at this new 5,000 sq. ft. residential home situated in Norris City (Southern Illinois).
During the heating season this unit produces hot water very efficiently by combining heat obtained from the unit's absorption cycle and recovered heat energy from a renewable source, outside air.
This hydronic heating provides a nominal heating efficiency of 139% while using less than 1 kW of electricity.
Unlike its electric counterpart in four to five ton cooling capacities, the Robur absorption heat pump provides stable operation and approximately 83,000 Btu/hr heat capacity down to a -4 °F outdoor temperature, thereby reducing or possibly eliminating the need for expensive standby electric resistance heat.
During the cooling season the Robur unit's absorption cycle is reversed to provide chilled water for comfort air conditioning.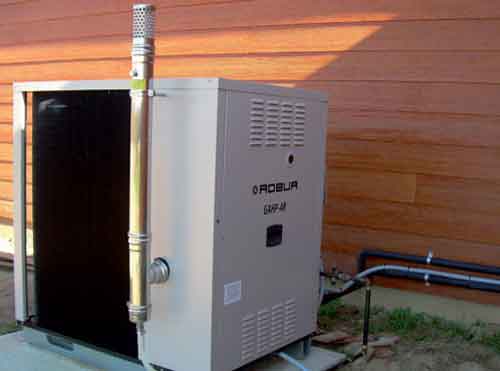 The primary reasons for the selection of the Robur unit were due to the low gas rate in the area, the high efficiency of the system and its environmentally friendly operation. Robur heat pumps do not use any HCFC refrigerants.

Robur's hydronic system may be used with one or multiple air handlers or fan coils to provide design flexibility to satisfy the most demanding indoor comfort conditioning needs. These indoor air handling units provide hot air during the winter and cool air during summer. To obtain indoor comfort in this specific installation, Robur's reversible heat pump heats water to 140 °F in the heating mode and alternately provides chilled water to 45 °F in cooling mode. The distribution of this hot/chilled water is in a closed-loop system eliminating the need for additional water consumption.
| | |
| --- | --- |
| Building type | New House - Residential |
| Area | 5,000 sq. ft. – 2 floors |
| Energy distribution system | Central Air Handler |
| Unit number and type | 3 GAHP-AR Gas Absorption Air-Water Reversible Heat Pump |
| Heating capacity | 120,400 Btu/hr |
| Cooling capacity | 57,700 Btu/hr (5 ton) |