GAHP GS
Condensing absorption heat pump powered by gas and ground source renewable energy.
For high efficiency heating.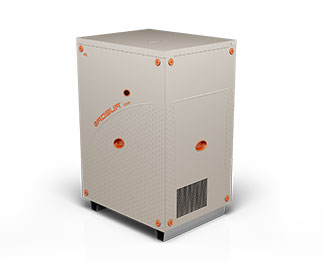 Benefits
Up to 39.4% utilisation of ground source renewable energy, exceeding peak efficiencies of 165%, reductions in annual heating costs and in CO2 emissions compared to condensing boilers.
The most beneficial heating system to enhance the energy qualification of buildings, because it permits a considerable promotion of the building's energy classification with the consequent increase in the value of the building.
All data are tested by certificates and approvals from ENEA for Italy, DVGW Forschungsstelle and VDE for Germany, California Energy Commission for USA.
Reduction in investment costs for geothermal loops can be higher than 50% in comparison to EHP.
In case of contemporary use, external sources are not required, thus reducing installation and operational costs.
It reduces electricity consumption thanks to the prevalent use of gas.
With a GAHP-GS, every year 4.0 Tons of CO2 emissions are saved, which are equivalent to those absorbed by 570 trees or those produced by 2 green cars; every year 1.8 TOE are saved.
HT: for the production of water at high temperature (retrofitted radiator systems);
LT: optimized to produce hot water at low temperature (new systems with radiant panels or fan coils);
also available in pre-assembled groups Link on demand for configurations of more power.
Ideal for heating industrial, commercial, accommodation and tertiary utilities in geothermal applications.
Ability to supply cooling as free-cooling mode (unit off) or in geothermal applications with active cooling (unit on).
Ideal for upgrading or integrating existing systems.
For outdoor and indoor installation.
HEATING OPERATION MODE(1)

Energy class ErP (55 °C operation): A++
Working point B0/W35 - G.U.E. (Gas Utilization Efficiency): 165%
Working point B0/W35 - Heating capacity: kW 41.6
Working point B0/W35 - Capacity recovered from renewable source: kW 16.4
Working point B0/W50 - G.U.E. (Gas Utilization Efficiency): 149%
Working point B0/W50 - Heating capacity: kW 37.6
Working point B0/W50 - Capacity recovered from renewable source: kW 12.1
Maximum outlet water temperature for heating/DHW: 65/70°C
Nominal electrical power(2): 0.41 kW
Sound pressure Lp at 5 metres(3) - Free field, at the front, direction factor 2: 44.1 dB(A)

(1) As per calculation methods of EN12309.
(2) ± 10% depending on the power supply voltage and on the tolerance of the electrical motors power consumption.
(3) Lw sound power standard version dB(A) 66.1. Sound power valuesmeasured according to EN ISO 9614.

Note: The capacity recovered is considered as the capacity available for cooling. For any further information, please refer to design manual.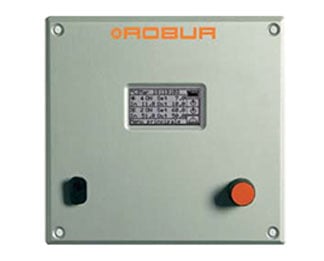 DDC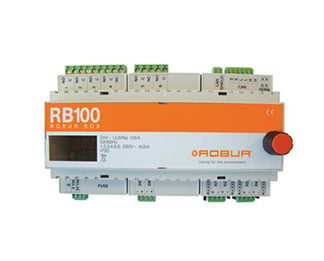 Robur Box 100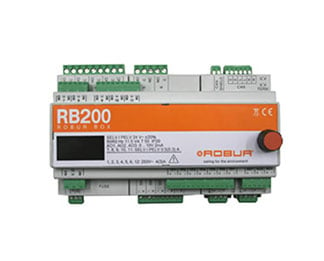 Robur Box 200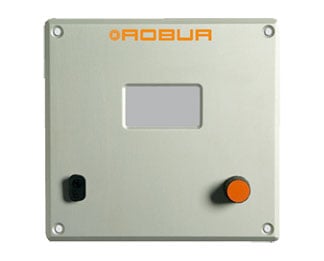 Pannello Comfort Control Interface (CCI)