GA ACF HR
Gas absorption chiller with heat recovery
For free production of DHW in cooling operation mode.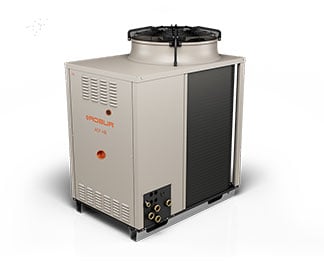 Benefits
Up to 199% overall efficiency with heat recovery.
Production of hot water for free during cooling operation, up to 32 kWt.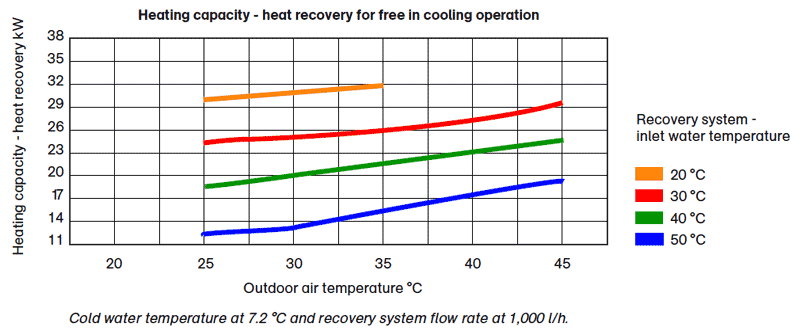 Saving up to 86% of electricity compared with a traditional electrical system, thanks to the prevalent use of natural gas.
Complete system flexibility and modularity, ensuring continuity of service and providing the cooling output according to seasonal demands.
Available as standard or low noise version.
Customized pre-assembled groups Link on demand: for configurations of more power or combined with Robur gas absorption chillers or condensing boiler.
Cooling systems where hot water production for domestic use is required (hotels, hospitals, swimming pools, etc.) and post-heating circuits with A.H.U.
For outdoor installation.
Cooling capacity(1) with heat recovery (working point A35/W7): kW 17.72
G.U.E. Gas Utilization Efficiency (working point A35/W7): 71%
Minimum outlet water temperature: 3°C
Ambient operating temperature max/min: 45/0°C

Heating capacity with heat recovery for free in cooling operation: up to 32 kW
Hot water inlet temperature - max/min: 75/10°C

Nominal electrical power(2)(3) standard/low-noise version: 0,82/0,87 kW
Sound power Lw(4) standard/low-noise version: 82.1/76.1 dB(A)
Sound pressure Lp at 5 metres(5) standard/low-noise version: 60.1/54.1 dB(A)

(1) Operating point under nominal conditions according to EN 12309-2.
(2) A reduction in the fan revolutions (air flow) is envisaged for ambient operating temperatures of less than 33 °C. This leads to a further reduction in electricity consumption levels.
(3) ± 10% depending on the power supply voltage and on the tolerance of the electrical motors power consumption.
(4) Sound power values measured according to EN ISO 9614.
(5) Free field, at the front, direction factor 2. The values refer to the maximum measured.

Note: For multiple units, please contact the Robur sales network. For any further information about heat recovery systems, please see planning manual.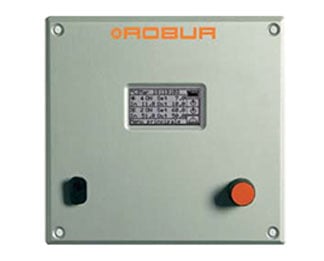 DDC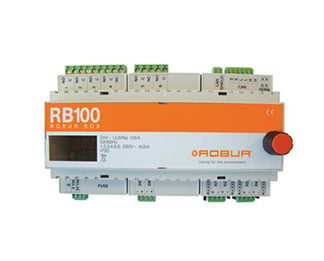 Robur Box 100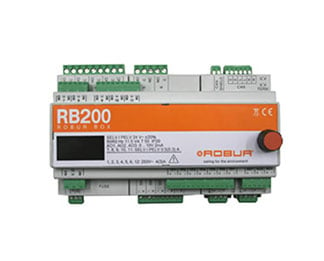 Robur Box 200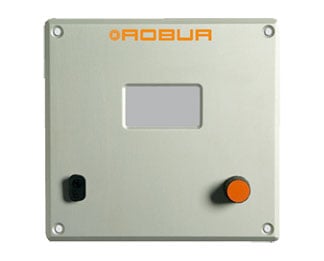 Pannello Comfort Control Interface (CCI)