Next-R Series
Modulating with premix burner gas heater
A complete range for the efficient heating of industrial spaces of any size.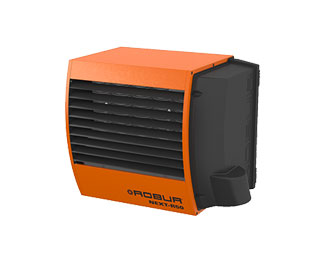 Benefits
Simple and light.
Ultra-light and compact in size.
Super flexible: thanks to their extra-compact size, Robur Next R gas unit heaters can be easily installed. No problems: thanks to their weight, 25% less than other models on the market, it is even easier to install. Thanks to their modularity, it is possible to avoid the construction of a traditional heating system.
Genius software.
Smart control system.
You can control them as you wish. From the simplified on/off command to the revolutionary smart management system, called Genius, which allows you to adjust and control the system (up to 100 gas unit heaters) in an optimal manner, even remotely.
An integrated and dynamic system, able to simplify management and optimise efficiency.
Thanks to its particular engineering, it is possible to comfortably manage the system and intervene promptly. The entire system is constantly monitored and the parameters can be easily adjusted as required.
Comfort Zone System.
Optimisation of comfort and savings.
Robur gas unit heaters heat the rooms ensuring a very low heat stratification thanks to the characteristics "COMFORT ZONE SYSTEM". The particular shape and the material used to make the heat exchangers divides the air flow into different layers with different temperatures, thus avoiding installation of destratificators.
The ambient comfort produced also guarantees a homogeneous temperature and a perfect mixing of the air already at 4 m from the unit, keeping these characteristics unaltered even at a great distance (40 metres and above).
Design and Technology.
Exclusive design and innovative technology.
An unmatched product able to integrate its unique design Made in Italy and innovative and exclusive Robur technology. Developed thanks to a continuous and intense research activity, Robur Next R gas unit heaters are valuable products and an investment over time.
Modularity.
They can be managed independently or via the revolutionary smart control system (Genius). They only heat when and where needed, without waste.
Rapid heating.
In a short time, even the largest rooms are immediately warm thanks to the absence of the carrier fluid, as opposed to water-based heating systems.
Reduced emissions.
The air-gas ratio is optimal and guarantees virtually no emissions. Equipped with a self-adapting combustion circuit to optimise the installation of air-smoke ducts.
Total Safety.
The reliability of a product complying with the most restrictive safety standards and the quality of selected materials.
Easy Maintenance.
The structure of the gas unit heaters is designed to guarantee quick access and easy maintenance.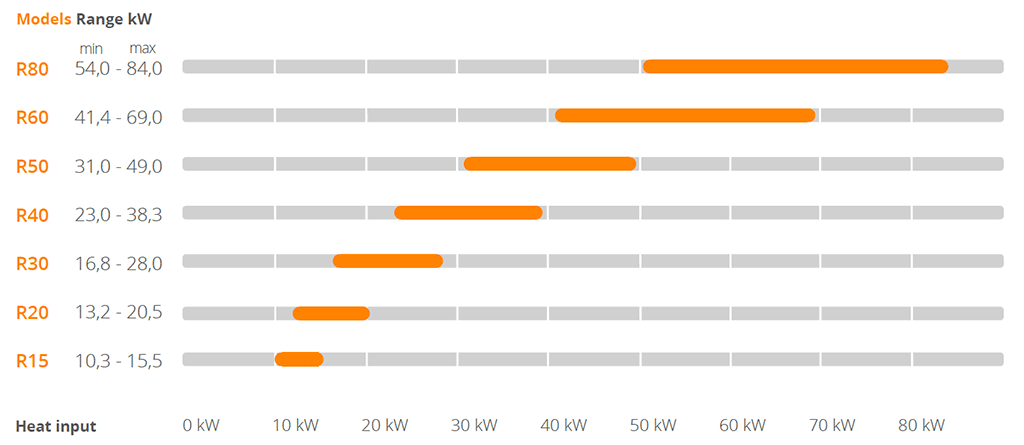 Heat input R15: maximum kW 15.5 - minimum kW 10.3
Heat input R20: maximum kW 20.5 - minimum kW 13.2
Heat input R30: maximum kW 28.0 - minimum kW 16.8
Heat input R40: maximum kW 38.3 - minimum kW 23.0
Heat input R50: maximum kW 49.0 - minimum kW 31.0
Heat input R60: maximum kW 69.0 - minimum kW 41.4
Heat input R80: maximum kW 84.0 - minimum kW 54.0

Efficiency R15: maximum 91.0% - minimum 96.0%
Efficiency R20:maximum 91.0% - minimum 96.5%
Efficiency R30: maximum 91.0% - minimum 96.7%
Efficiency R40: maximum 91.5% - minimum 96.5%
Efficiency R50: maximum 91.0% - minimum 97.8%
Efficiency R60: maximum 91.0% - minimum 97.5%
Efficiency R80: maximum 91.0% - minimum 97.4%

Nominal air flow(1) R15: 2,222 m3/h
Nominal air flow(1) R20: 2,460 m3/h
Nominal air flow(1) R30: 2,900 m3/h
Nominal air flow(1) R40: 4,010 m3/h
Nominal air flow(1) R50: 4,470 m3/h
Nominal air flow(1) R60: 6,470 m3/h
Nominal air flow(1) R80: 8,670 m3/h

Installed wattage R15: kW 0.18
Installed wattage R20: kW 0.21
Installed wattage R30: kW 0.21
Installed wattage R40: kW 0.30
Installed wattage R50: kW 0.34
Installed wattage R60: kW 0.41
Installed wattage R80: kW 0.60

(1) At 20 °C - 1013 mbar.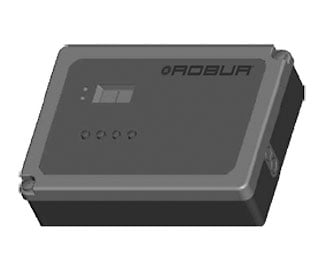 Termoregolatore per generatori - OTRG005