Supercromo
Gas-fired convector
Quick to install, each convector is independent and optimizes the comfort of the environment.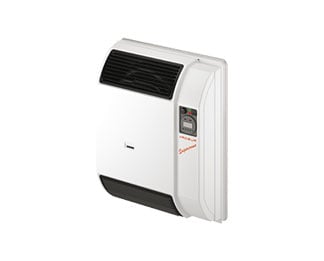 Benefits
Instant heating where you need it and when you need it: Robur Gas Convectors are an independent and modular system that allows different rooms to be heated to different temperatures, optimizing the heating by autonomously regulating the temperature of each single zone. Robur Gas Convectors adjust therefore fuel consumption to actual requirements.
Three minutes is all that it needs for Robur Gas Convectors to warm up a room.
30% savings compared to a central heating system.
Safe and reliable because the combustion circuit is completely room sealed and all products of combustion are exhausted outdoors.
Supercromo 3001: small with great performance.
Thanks to the small dimensions, Supercromo 3001 is the ideal solution for small premises as well as rooms with a low windowsill. It warms up the room very quickly and keeps the noises low thanks to the centrifugal fan.
Supercromo 3002 optimizes the comfort.
It combines the features of 3001 model with more operating possibilities like the programmable timer (150h charging system), supplied as standard. Heating where you need it and when you need it, with small sizes and low consumptions.
Available in white (RAL 9003).
Ideal for occasional use, refurbishment and holiday homes.
Heat output Supercromo 3001: nominal W 2,320
Heat output Supercromo 3002: nominal W 2,320

Air flow(1) Supercromo 3001: 100 m3/h
Air flow(1) Supercromo 3002: 100 m3/h

Wattage Supercromo 3001: W 45
Wattage Supercromo 3002: W 45

Size Supercromo 3001: length mm 478 - height mm 577 - depth mm 173
Size Supercromo 3002: length mm 478 - height mm 577 - depth mm 173

(1) At 20 °C - 1013 mbar.