GA ACF TK
Gas absorption chiller
For process applications.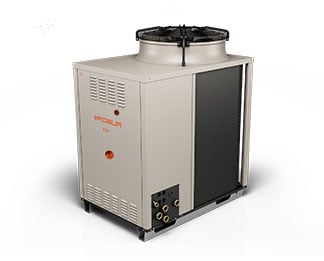 Benefits
Saving up to 86% of electricity compared with a traditional electrical system, thanks to the prevalent use of natural gas.
Independent and modular, it ensures constant performance for air conditioning only as and when needed.
Thanks to the use of an almost static refrigeration cycle, the performance levels remain unchanged over time and regular refill and disposal of refrigerant is not required.
Available as standard or low noise version.
Customized pre-assembled groups Links on demand: for configurations of more power or combined with Robur gas absorption chillers or condensing boiler.
Cooling in process applications. (e.g. in greenhouses for the intensive cultivation of mushrooms, rooms used for medium/longterm maturing of cheese, etc).
Cooling of controlled temperature rooms throughout the year (e.g. data reading rooms, computer rooms, laboratories).
Cooling of rooms with high heat gains that require cooling even during cold seasons.
Cooling capacity(1) (working point A35/W7): kW 17.72
G.U.E. Gas Utilization Efficiency (working point A35/W7): 71%
Minimum outlet water temperature: 3°C
Ambient operating temperature max/min: 45/-12°C

Nominal electrical power(2)(3) standard/low noise version: 0.82/0.87 kW
Sound pressure Lp at 5 metres(4) standard version: 57.6/53.0 dB(A)

(1) Operating point under nominal conditions according to EN 12309-2.
(2) A reduction in the fan revolutions (air flow) is envisaged for ambient operating temperatures of less than 33 °C. This leads to a further reduction in electricity consumption levels.
(3) ± 10% depending on the power supply voltage and on the tolerance of the electrical engines.
(4) Free field, at the front, direction factor 2.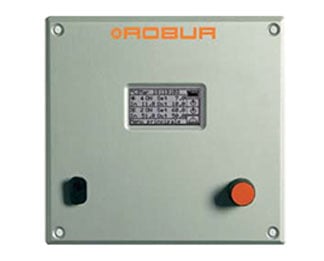 DDC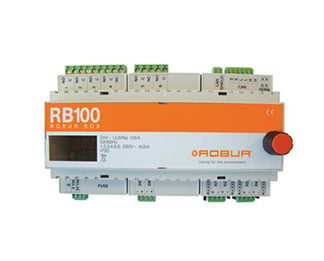 Robur Box 100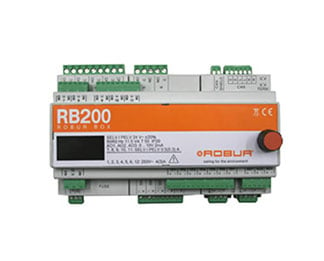 Robur Box 200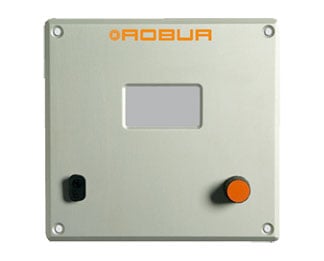 Pannello Comfort Control Interface (CCI)