R4S
Air curtain
External cold air is stopped.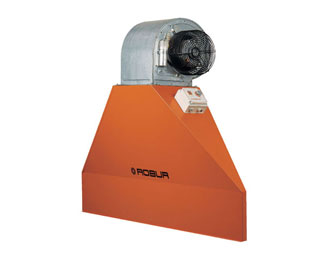 Benefits
The R4S air barrier is used in factories or workshops where frequently opened doors cause cold air to enter, thereby lowering the internal temperature and increasing heat loss. The air barrier R4S, with increased fan-size and pressure head, is supplied as standard with a speed fan.
One barrier, two advantages. The R4S operation is as simple as it is ingenious. It consists of a powerful fan, which can be set to operate each time the door is opened. It takes air from the upper area and blows it down over the door opening at high speeds through its long thin nozzle. This action promotes two fundamental effects. It helps to eliminate heated internal air from escaping to outside and also re-uses the hotter air from the higher area by blowing it back down to the lower working level where it is needed.
Simple installation – maximum versatility. The installation of a R4S Robur air barrier is easy. The powerful centrifugal fan requires a single-phase (230 V) electrical supply. The multipositional wall-fixing bracket allows for different nozzle angles to suit the characteristics of the door it is covering. By installing several R4S air barriers all door widths can be catered for. The R4S air barrier is fitted with a speed regulator allowing the airflow duty to be altered depending on the units mounting height. The lower the door opening then the lower the airflow duty and thus, the lower the energy consumption.
Buildings with frequent doors opening.
Areas bordering with unheated and frequent-transit spaces.
Required voltage: 230 V - 50 Hz
Operating wattage: W 1000
Air flow: m3/h 3200
Insulation class: B
Speed fan: supplied as standard