Condensing boiler AY
Outdoor modulating condensing boilers
Heating and domestic hot water production. An ideal complement to absorption solutions in any environment.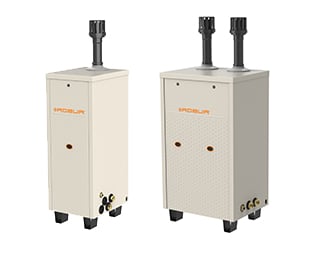 Benefits
Ideal for thermal integration of Robur absorption solutions.
Provides optimal peak heat output where climatic or economic conditions make it convenient.
3 different sizes of modulating boiler output can be chosen.
They are designed for outdoor installation for temperatures down to -25 °C.
Customized pre-assembled groups Link on demand: for configurations of more power or combined with Robur gas absorption chillers or condensing boiler.
AY 35
AY 50
AY 100
Heat input
nominal (1013 mbar - 15 °C)
kW
34.0
50.0
99.8
minimum
kW
4.1
5.0
Operating point 80/60
nominal heat input
effective power
kW
33.4
49.2
98.4
efficiency
%
98.2
98.4
98.5
Operating point 50/30
nominal heat input
efficiency
%
106.4
106.8
Operating point Tr = 30 °C
heat input 30%
efficiency
%
108.6
108.8
Ambient air temperature (dry bulb)
maximum
°C
45
minimum
°C
-15
Electrical power absorption
nominal
kW
0.22
0.25
0.49
Gas consumption
G20 natural gas (nominal)
m3/h
3.60
5.29
10.58
Dimensions
width
mm
465
720
depth
mm
575
height
mm
1,184
Weight
in operation
kg
80
90
134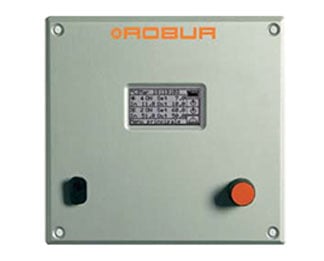 DDC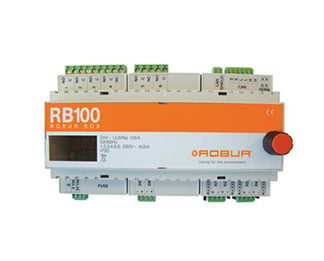 Robur Box 100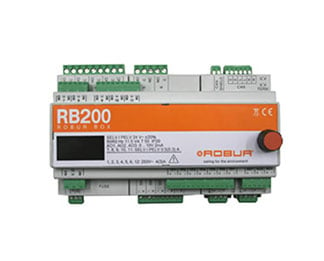 Robur Box 200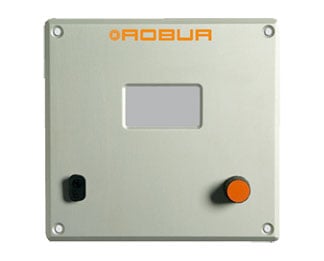 Pannello Comfort Control Interface (CCI)