K18 Simplygas
Condensing absorption heat pump powered by gas and air source renewable energy.
For high efficiency heating and hot water production.
Ideal for detached and semi-detached homes.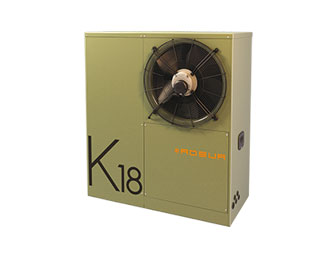 Benefits
Thanks to the environmental energy, heating costs are reduced by half.
K18 is simple as a boiler, but it is far more: K18 is super efficient because it uses at best the energy of air, always available, securing a solid saving every year!
It is the easy choice for your home.
K18 is the all-in-one solution, easy to install, avoiding the complexity of the integration on field with solar thermal systems.
No flue pipes. Easy maintenace.
It uses a natural refrigerant, not affected by F-Gas restrictions.
It is the quietest heat pump on the market.
It is a versatile unit.
Suitable for both new and existing buildings as it fits also in heating systems with high temperature distribution systems (radiators). K18 can replace or integrate an existing gas boiler in the easiest and quickest way.
It is the ideal choice for new houses with low temperature distribution systems (floor heating or fan coils).
Environmental and Energy Efficiency Declaration for each customer.
K18 Simplygas is the ideal solution for heating and producing domestic hot water in single and two-family residences, offices, small commercial premises and in any application where the required energy requirement is less than 18 kW.
Heating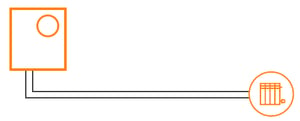 Heat pump production of hot water for heating up to 65 ° C.
ACCESSORIES FOR HEATING FUNCTION
Chronothermostat cod. OCDS007
Heating+ DHW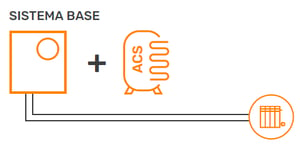 - Heat pump production of hot water for heating and domestic hot water with storage up to 70 ° C.
- Integrated management of the temperature probe (to be inserted in the DHW tank).
- Integrated management of external three-way valve.
- Predisposition for DHW programming in 5 modes.
ACCESSORIES FOR DHW FUNCTION
- Storage boiler cod. OSRB012 or cod. OSRB004.
- Water temperature probe cod. OSND004.
- 3-way diverter valve cod. OVLV007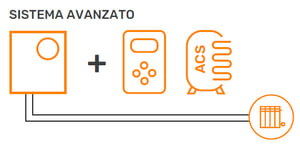 Advanced management of secondary circuits.
ACCESSORIES FOR ADVANCED DHW FUNCTION (IN ADDITION TO THE BASIC FUNCTION)
Centralized control cod. OQLT021.
HEATING MODE(1)

ErP Energy Class (55°C application): A++
Working point A7/W35(2) | G.U.E. gas utilization efficiency(3): 169%
Working point A7/W35(2) | heating capacity: 18,9 kW
Working point A7/W50(4) | gas utilization efficiency(5): 157%
Working point A7/W50(4) | heating capacity: 17,6 kW
Max outlet water temperature | heating: 65°C
Nominal max electrical power(6): 355 W
Sound pressure Lp at 5 metres(7) | free field, direction factor: 2 | max speed fan: 43,0 dB(A)
Sound pressure Lp at 5 metres(7) | free field, direction factor: 2 | min speed fan: 40,0 dB(A)

(1) As per calculation methods of EN12309.
(2) Outdoor temperature 7 °C, outlet hot water temperature 35 °C.
(3) Equivalent to COP 4.22 on energy conversion factor of 2.5.
(4) Outdoor temperature 7 °C, outlet hot water temperature 50 °C.
(5) Equivalent to COP 3.92 on energy conversion factor of 2.5.
(6) Water pump electrical consumtpion not included.
(7) Lw sound power 65 dB(A) at max speed fan, 62 dB(A) at min speed fan. Sound power values measured according to EN ISO 9614.


DESIGN THERMAL OUTPUT- kW
| | | |
| --- | --- | --- |
| Outdoor project temperature °C | High temperature distribution terminals (hot water outlet temperature 55 °C) | Low temperature distribution terminals (hot water outlet temperature 35 °C) |
| -25 | 11,8 | 13,0 |
| -20 | 12,0 | 14,0 |
| -15 | 12,5 | 15,0 |
| -10 | 13,0 | 16,9 |
| -5 | 14,0 | 17,7 |
| 0 | 15,0 | 18,0 |
| 5 | 16,0 | 18,5 |
| 10 | 17,0 | 19,0 |